Wasn't that Barn Conversion house tour utterly scrumptious? Now it's time to weave that Modern Country magic I promised you...let's break the interior right down, so that you can see how easy it is to Get The Barn Conversion Chic Look in any house.
Did you notice how certain themes ran all the way through from the exterior to the interior?
The neutral paint choice on the front door and window frame resonates throughout the barn's beautiful interior.
Clockwise from top: Even if you own a new-build, white walls and French grey cabinets is a scheme that suits any period of house...perfectly Modern Country; if you live in a more contemporary home, stick to simple, clean lines in your kitchenware; I love this palette of Little Greene Shirting, Benjamin Moore Doily, Little Greene French Grey, Earthborn Gregory's Den; Classic Country pieces in an unfussy, modern white bring this scheme to life.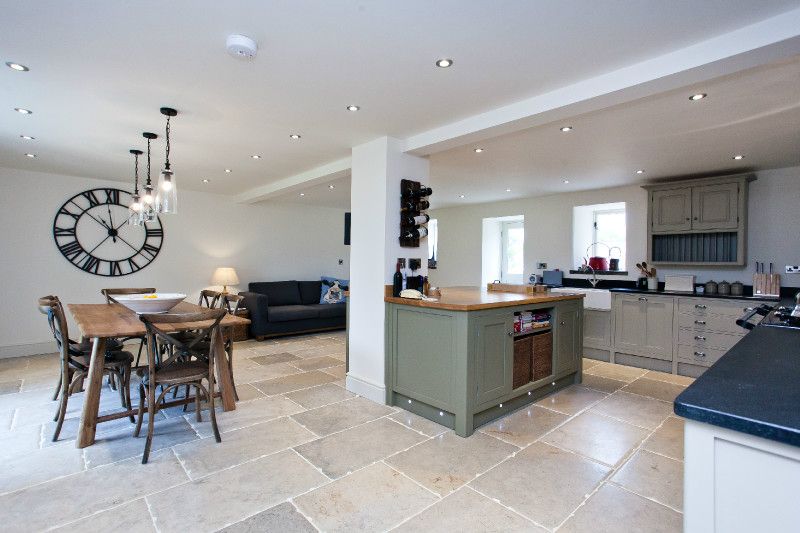 Even the accent colours are inspired by outside. The lush green of the grass and trees, and the deep grey-blue of the ornamental path leading to the large front doors is repeated internally in muted sage greens, deep charcoal and muted blues. Yum!
Clockwise from top: The Barn Conversion Chic look suits country-style properties too. Paint a dresser in toning paint to that of your kitchen cabinets for a timeless, free-standing kitchen feel; try Farrow and Ball Railings, Farrow and French Gray, Zoffany Architect's White and Benjamin Moore Pewter for
some contemporary chic paint colours to enhance the Modern Country glow.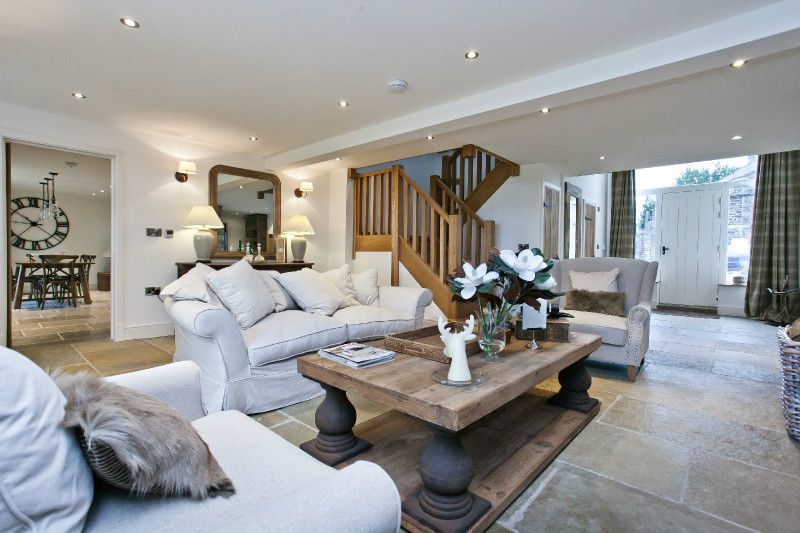 The continuity of colour throughout the barn conversion means that your eye can travel smoothly from room to room - such an easy look to emulate; just continue your chosen scheme throughout your ground floor.
Clockwise from top: Often stone walls of the barns' exteriors are revealed in the living room but, if this isn't the case in your home, then you can purposefully echo the natural properties of your house in your choice of stone tiles and flag stones; This palette takes its inspiration from the outside: Farrow and Ball London Clay, Farrow and Ball Mouse's Back, Dulux Bleached Lichen, Zoffany Quarter Linen; if you live in a new- build, get the look by including lots of rustic materials...glass, metal, wood...; how can these gorgeous flagstones, laid in a contemporary herringbone pattern, fail to add character to any property?
You see? *sigh of relief* The Barn Conversion Chic look can be yours whether you have a derelict barn on waiting in the wings to be decorated or in the tiniest of cottages, or the grandest of modern homes.
Images via: Fine and Country, Modern Country Style moodboard 1 (Sims Hilditch, The New General Store, Le Creuset), Fine and Country, Modern Country Style moodboard 2 (Border Oak, Pinterest, Garden Trading), Fine and Country, Modern Country Style moodboard 3 (Country Homes and Interiors, unknown, Archiexpo)